I Tamed a Tyrant and Ran Away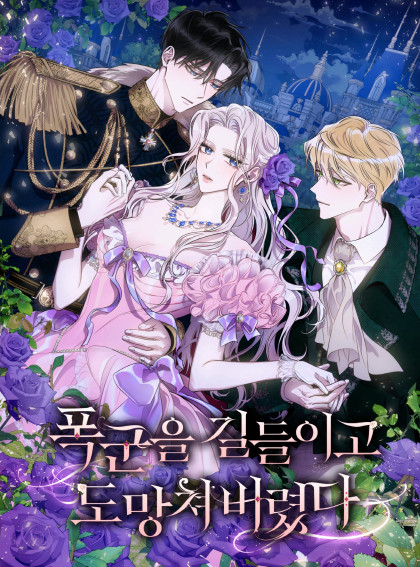 Alternative titles:
I Tamed a Tyrant and Ran Away, 폭군을 길들이고 도망쳐버렸다
Description:
God gave me a chance to relive my life. Before my rebirth, I'd spent the past 400 years as the Empire's Sword Keira, a literal magic blade forged from my cursed body. And so, after centuries of my soul being trapped and forced to kill countless people against my will, I swore to destroy the Empire that had so ruthlessly abused me.
I found the young genius prince of the Empire and became his teacher.
I taught him how to become a tyrant and asked for the Empire.

"I will do as the lady wishes."

He conquered the whole Empire for me, and I ran away.

"I came to take you, Charlize Ronan." Dylan had become a perfect tyrant and searched the entire Empire for me.

"You tamed me, so why did you run away?"
| | | | | |
| --- | --- | --- | --- | --- |
| Chapter | Language | Group | Views | Added |
| Chapter 75 | English | LeviatanScans | 9 | Oct 12, 2022 |
| Chapter 74 | English | LeviatanScans | 5 | Oct 12, 2022 |
| Chapter 73 | English | LeviatanScans | 7 | Oct 12, 2022 |
| Chapter 72 | English | LeviatanScans | 5 | Oct 12, 2022 |
| Chapter 71 | English | LeviatanScans | 6 | Oct 12, 2022 |
| Chapter 70 | English | LeviatanScans | 5 | Oct 12, 2022 |
| Chapter 69 | English | LeviatanScans | 5 | Oct 12, 2022 |
| Chapter 68 | English | LeviatanScans | 5 | Oct 12, 2022 |
| Chapter 67 | English | LeviatanScans | 5 | Oct 12, 2022 |
| Chapter 66 | English | LeviatanScans | 7 | Oct 12, 2022 |
| Chapter 65 | English | LeviatanScans | 5 | Oct 12, 2022 |
| Chapter 64 | English | LeviatanScans | 8 | Oct 12, 2022 |
| Chapter 63 | English | LeviatanScans | 5 | Oct 12, 2022 |
| Chapter 62 | English | LeviatanScans | 6 | Oct 12, 2022 |
| Chapter 61 | English | LeviatanScans | 5 | Oct 12, 2022 |
| Chapter 60 | English | LeviatanScans | 5 | Oct 12, 2022 |
| Chapter 59 | English | LeviatanScans | 5 | Oct 12, 2022 |
| Chapter 58 | English | LeviatanScans | 5 | Apr 09, 2022 |
| Chapter 57 | English | LeviatanScans | 8 | Apr 04, 2022 |
| Chapter 56 | English | LeviatanScans | 4 | Mar 28, 2022 |
| Chapter 55 | English | LeviatanScans | 11 | Mar 13, 2022 |
| Chapter 54 | English | LeviatanScans | 5 | Mar 05, 2022 |
| Chapter 53 | English | LeviatanScans | 8 | Feb 27, 2022 |
| Chapter 52 | English | LeviatanScans | 6 | Feb 20, 2022 |
| Chapter 51 | English | LeviatanScans | 7 | Feb 12, 2022 |
| Chapter 50 | English | LeviatanScans | 6 | Feb 12, 2022 |
| Chapter 49 | English | LeviatanScans | 31 | Jan 22, 2022 |
| Chapter 48 | English | LeviatanScans | 43 | Jan 10, 2022 |
| Chapter 47 | English | LeviatanScans | 36 | Jan 02, 2022 |
| Chapter 46 | English | LeviatanScans | 32 | Dec 26, 2021 |
| Chapter 45 | English | LeviatanScans | 45 | Dec 16, 2021 |
| Chapter 44 | English | LeviatanScans | 39 | Dec 16, 2021 |
| Chapter 43 | English | LeviatanScans | 62 | Nov 28, 2021 |
| Chapter 42 | English | LeviatanScans | 55 | Nov 22, 2021 |
| Chapter 41 | English | LeviatanScans | 59 | Nov 14, 2021 |
| Chapter 40 | English | LeviatanScans | 365 | Jun 03, 2021 |
| Chapter 39 | English | LeviatanScans | 74 | May 26, 2021 |
| Chapter 38 | English | LeviatanScans | 52 | May 18, 2021 |
| Chapter 37 | English | LeviatanScans | 65 | May 18, 2021 |
| Chapter 36 | English | LeviatanScans | 47 | May 18, 2021 |
| Chapter 35 | English | LeviatanScans | 52 | May 18, 2021 |
| Chapter 34 | English | LeviatanScans | 41 | May 18, 2021 |
| Chapter 33 | English | LeviatanScans | 47 | May 18, 2021 |
| Chapter 32 | English | LeviatanScans | 49 | May 18, 2021 |
| Chapter 31 | English | LeviatanScans | 59 | May 18, 2021 |
| Chapter 30 | English | LeviatanScans | 53 | May 18, 2021 |
| Chapter 29 | English | LeviatanScans | 48 | May 18, 2021 |
| Chapter 28 | English | LeviatanScans | 49 | May 18, 2021 |
| Chapter 27 | English | LeviatanScans | 47 | May 18, 2021 |
| Chapter 26 | English | LeviatanScans | 58 | May 18, 2021 |
| Chapter 25 | English | LeviatanScans | 40 | May 18, 2021 |
| Chapter 24 | English | LeviatanScans | 41 | May 18, 2021 |
| Chapter 23 | English | LeviatanScans | 43 | May 18, 2021 |
| Chapter 22 | English | LeviatanScans | 42 | May 18, 2021 |
| Chapter 21 | English | LeviatanScans | 39 | May 18, 2021 |
| Chapter 20 | English | LeviatanScans | 41 | May 18, 2021 |
| Chapter 19 | English | LeviatanScans | 35 | May 18, 2021 |
| Chapter 18 | English | LeviatanScans | 55 | May 18, 2021 |
| Chapter 17 | English | LeviatanScans | 43 | May 18, 2021 |
| Chapter 16 | English | LeviatanScans | 51 | May 18, 2021 |
| Chapter 15 | English | LeviatanScans | 52 | May 18, 2021 |
| Chapter 14 | English | LeviatanScans | 43 | May 18, 2021 |
| Chapter 13 | English | LeviatanScans | 57 | May 18, 2021 |
| Chapter 12 | English | LeviatanScans | 55 | May 18, 2021 |
| Chapter 11 | English | LeviatanScans | 49 | May 18, 2021 |
| Chapter 10 | English | LeviatanScans | 46 | May 18, 2021 |
| Chapter 9 | English | LeviatanScans | 42 | May 18, 2021 |
| Chapter 8 | English | LeviatanScans | 46 | May 18, 2021 |
| Chapter 7 | English | LeviatanScans | 44 | May 18, 2021 |
| Chapter 6 | English | LeviatanScans | 61 | May 18, 2021 |
| Chapter 5 | English | LeviatanScans | 53 | May 18, 2021 |
| Chapter 4 | English | LeviatanScans | 54 | May 18, 2021 |
| Chapter 3 | English | LeviatanScans | 57 | May 18, 2021 |
| Chapter 2 | English | LeviatanScans | 60 | May 18, 2021 |
| Chapter 1 | English | LeviatanScans | 66 | May 18, 2021 |