The Live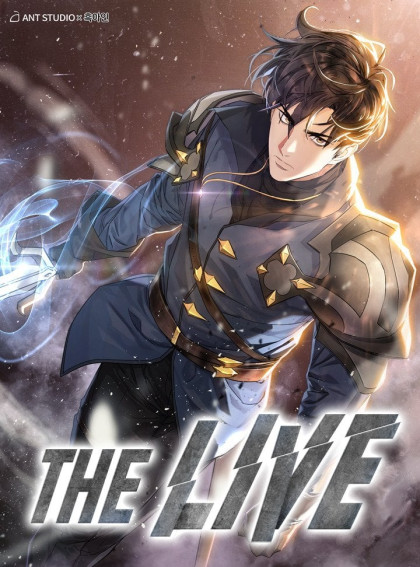 Description:
Yoonjae leads a miserable life after losing his wife and daughter. Then he reads his journal from the future: "You can see them again."

In a parallel world, he must clock the game to win the Grail that will grant one wish.

Only Yoonjae can see the future.

Can he make his wish come true?

---

After losing his wife and daughter in a horrific accident, Yun-Jae finds himself stuck in his routine until he receives a diary from his future self. "I can see... my wife and daughter again?" By winning the "games" in the "parallel world," one will receive a "prize," and using this, he could revive his dead family... but out of all the survivors of this cruel world, Yun-Jae is the only one with the knowledge of the future. Will he be able to turn his greatest wish into reality?
| | | | | |
| --- | --- | --- | --- | --- |
| Chapter | Language | Group | Views | Added |
| Chapter 170 | English | Lynx Scans | 2 | 11 days ago |
| Chapter 169 | English | Lynx Scans | 8 | 13 days ago |
| Vol 2, Chapter 168 | English | Lynx Scans | 3 | 21 days ago |
| Vol 2, Chapter 167 | English | Asura Scans | 6 | Sep 02, 2023 |
| Vol 2, Chapter 166 | English | Asura Scans | 9 | Aug 26, 2023 |
| Vol 2, Chapter 165 | English | Asura Scans | 9 | Aug 18, 2023 |
| Vol 2, Chapter 164 | English | Asura Scans | 3 | Aug 18, 2023 |
| Vol 2, Chapter 163 | English | Asura Scans | 8 | Aug 12, 2023 |
| Vol 2, Chapter 162 | English | Asura Scans | 3 | Aug 12, 2023 |
| Vol 2, Chapter 161 | English | Asura Scans | 6 | Aug 12, 2023 |
| Vol 2, Chapter 160 | English | Asura Scans | 5 | Jul 21, 2023 |
| Vol 2, Chapter 159 | English | Asura Scans | 3 | Jul 21, 2023 |
| Vol 2, Chapter 158 | English | Asura Scans | 6 | Jul 05, 2023 |
| Vol 2, Chapter 157 | English | Asura Scans | 6 | Jul 01, 2023 |
| Vol 2, Chapter 156 | English | Asura Scans | 5 | Jul 01, 2023 |
| Vol 2, Chapter 155 | English | Asura Scans | 4 | Jun 18, 2023 |
| Vol 2, Chapter 154 | English | Asura Scans | 4 | Jun 18, 2023 |
| Vol 2, Chapter 153 | English | Asura Scans | 4 | Jun 18, 2023 |
| Vol 2, Chapter 152 | English | Asura Scans | 4 | Jun 18, 2023 |
| Vol 2, Chapter 151 | English | Asura Scans | 5 | Jun 18, 2023 |
| Vol 2, Chapter 150 | English | Asura Scans | 7 | Jun 18, 2023 |
| Vol 2, Chapter 149 | English | Asura Scans | 5 | Jun 18, 2023 |
| Vol 2, Chapter 148 | English | Asura Scans | 4 | Jun 18, 2023 |
| Vol 2, Chapter 147 | English | Asura Scans | 4 | Jun 18, 2023 |
| Vol 2, Chapter 146 | English | Asura Scans | 4 | Jun 18, 2023 |
| Vol 2, Chapter 145 | English | Asura Scans | 4 | Jun 18, 2023 |
| Vol 2, Chapter 144 | English | Asura Scans | 4 | Jun 18, 2023 |
| Vol 2, Chapter 143 | English | Asura Scans | 6 | Jun 18, 2023 |
| Vol 2, Chapter 142 | English | Asura Scans | 6 | Jun 18, 2023 |
| Vol 2, Chapter 141 | English | Asura Scans | 3 | Jun 18, 2023 |
| Vol 2, Chapter 140 | English | Asura Scans | 6 | Jun 18, 2023 |
| Vol 2, Chapter 139 | English | Asura Scans | 6 | Jun 18, 2023 |
| Vol 2, Chapter 138 | English | Asura Scans | 5 | Jun 18, 2023 |
| Vol 2, Chapter 137 | English | Asura Scans | 4 | Jun 18, 2023 |
| Vol 2, Chapter 136 | English | Asura Scans | 3 | Jun 18, 2023 |
| Vol 2, Chapter 135 | English | Asura Scans | 3 | Jun 18, 2023 |
| Vol 2, Chapter 134 | English | Asura Scans | 4 | Jun 18, 2023 |
| Vol 2, Chapter 133 | English | Asura Scans | 7 | Jun 18, 2023 |
| Vol 2, Chapter 132 | English | Asura Scans | 4 | Jun 18, 2023 |
| Vol 2, Chapter 131 | English | Asura Scans | 7 | Jun 18, 2023 |
| Vol 2, Chapter 130 | English | Asura Scans | 6 | Jun 18, 2023 |
| Vol 2, Chapter 129 | English | Asura Scans | 5 | Jun 18, 2023 |
| Vol 2, Chapter 128 | English | Asura Scans | 4 | Jun 18, 2023 |
| Vol 2, Chapter 127 | English | Asura Scans | 5 | Jun 18, 2023 |
| Vol 2, Chapter 126 | English | Asura Scans | 5 | Jun 18, 2023 |
| Vol 2, Chapter 125 | English | Asura Scans | 4 | Jun 18, 2023 |
| Vol 2, Chapter 124 | English | Asura Scans | 3 | Jun 18, 2023 |
| Vol 2, Chapter 123 | English | Asura Scans | 3 | Jun 18, 2023 |
| Vol 2, Chapter 122 | English | Asura Scans | 4 | Jun 18, 2023 |
| Vol 2, Chapter 121 | English | Asura Scans | 2 | Jun 18, 2023 |
| Vol 2, Chapter 120 | English | Asura Scans | 2 | Jun 18, 2023 |
| Vol 2, Chapter 119 | English | Asura Scans | 4 | Jun 18, 2023 |
| Vol 2, Chapter 118 | English | Asura Scans | 3 | Jun 18, 2023 |
| Vol 2, Chapter 117 | English | Asura Scans | 4 | Jun 18, 2023 |
| Vol 2, Chapter 116 | English | Asura Scans | 4 | Jun 18, 2023 |
| Vol 2, Chapter 115 | English | Asura Scans | 4 | Jun 18, 2023 |
| Vol 2, Chapter 114 | English | Asura Scans | 4 | Jun 18, 2023 |
| Vol 2, Chapter 113 | English | Asura Scans | 3 | Jun 18, 2023 |
| Vol 2, Chapter 112 | English | Asura Scans | 4 | Jun 18, 2023 |
| Vol 2, Chapter 111 | English | Asura Scans | 7 | Jun 18, 2023 |
| Vol 2, Chapter 110 | English | Asura Scans | 4 | Jun 18, 2023 |
| Vol 2, Chapter 109 | English | Asura Scans | 5 | Jun 18, 2023 |
| Vol 2, Chapter 108 | English | Asura Scans | 5 | Jun 18, 2023 |
| Vol 2, Chapter 107 | English | Asura Scans | 7 | Jun 18, 2023 |
| Vol 2, Chapter 106 | English | Asura Scans | 3 | Jun 18, 2023 |
| Vol 2, Chapter 105 | English | Asura Scans | 3 | Jun 18, 2023 |
| Vol 2, Chapter 104 | English | Asura Scans | 6 | Jun 18, 2023 |
| Vol 2, Chapter 103 | English | Asura Scans | 4 | Jun 18, 2023 |
| Vol 2, Chapter 102 | English | Asura Scans | 10 | Jun 18, 2023 |
| Vol 2, Chapter 101 | English | Asura Scans | 7 | Jun 18, 2023 |
| Vol 2, Chapter 100 | English | Asura Scans | 5 | Jun 18, 2023 |
| Vol 2, Chapter 99 | English | Asura Scans | 7 | Jun 18, 2023 |
| Vol 2, Chapter 98 | English | Asura Scans | 11 | Jun 18, 2023 |
| Vol 2, Chapter 97 | English | Asura Scans | 5 | Jun 18, 2023 |
| Vol 2, Chapter 96 | English | Luminous Scans | 5 | Jun 18, 2023 |
| Vol 2, Chapter 95 | English | Luminous Scans | 5 | Jun 18, 2023 |
| Vol 2, Chapter 94 | English | Luminous Scans | 12 | Jun 18, 2023 |
| Vol 2, Chapter 93 | English | Luminous Scans | 6 | Jun 18, 2023 |
| Vol 2, Chapter 92 | English | Luminous Scans | 9 | Jun 18, 2023 |
| Vol 2, Chapter 91 | English | Luminous Scans | 10 | Jun 18, 2023 |
| Vol 2, Chapter 90 | English | Luminous Scans | 12 | Jun 18, 2023 |
| Vol 2, Chapter 89 | English | Luminous Scans | 7 | Jun 18, 2023 |
| Vol 2, Chapter 88 | English | Luminous Scans | 10 | Jun 18, 2023 |
| Vol 2, Chapter 87 | English | Luminous Scans | 6 | Jun 18, 2023 |
| Vol 2, Chapter 86 | English | Luminous Scans | 6 | Jun 18, 2023 |
| Vol 2, Chapter 85 | English | Luminous Scans | 5 | Jun 18, 2023 |
| Vol 2, Chapter 84 | English | Luminous Scans | 11 | Jun 18, 2023 |
| Vol 1, Chapter 83 | English | Luminous Scans | 5 | Jun 18, 2023 |
| Vol 1, Chapter 82 | English | Luminous Scans | 10 | Jun 18, 2023 |
| Vol 1, Chapter 81 | English | Asura Scans | 9 | Jun 18, 2023 |
| Vol 1, Chapter 80 | English | Asura Scans | 8 | Jun 18, 2023 |
| Vol 1, Chapter 79 | English | Asura Scans | 10 | Jun 18, 2023 |
| Vol 1, Chapter 78 | English | Asura Scans | 9 | Jun 18, 2023 |
| Vol 1, Chapter 77 | English | Asura Scans | 7 | Jun 18, 2023 |
| Vol 1, Chapter 76 | English | Asura Scans | 9 | Jun 18, 2023 |
| Vol 1, Chapter 75 | English | Asura Scans | 7 | Jun 18, 2023 |
| Vol 1, Chapter 74 | English | Asura Scans | 12 | Jun 18, 2023 |
| Vol 1, Chapter 73 | English | Asura Scans | 9 | Jun 18, 2023 |
| Vol 1, Chapter 72 | English | Asura Scans | 8 | Jun 18, 2023 |
| Vol 1, Chapter 71 | English | Asura Scans | 10 | Jun 18, 2023 |
| Vol 1, Chapter 70 | English | Asura Scans | 8 | Jun 18, 2023 |
| Vol 1, Chapter 69 | English | Asura Scans | 10 | Jun 18, 2023 |
| Vol 1, Chapter 68 | English | Asura Scans | 10 | Jun 18, 2023 |
| Vol 1, Chapter 67 | English | Asura Scans | 9 | Jun 18, 2023 |
| Vol 1, Chapter 66 | English | Asura Scans | 7 | Jun 18, 2023 |
| Vol 1, Chapter 65 | English | Asura Scans | 10 | Jun 18, 2023 |
| Vol 1, Chapter 64 | English | Asura Scans | 10 | Jun 18, 2023 |
| Vol 1, Chapter 63 | English | Asura Scans | 10 | Jun 18, 2023 |
| Vol 1, Chapter 62 | English | Asura Scans | 12 | Jun 18, 2023 |
| Vol 1, Chapter 61 | English | Asura Scans | 10 | Jun 18, 2023 |
| Vol 1, Chapter 60 | English | Asura Scans | 10 | Jun 18, 2023 |
| Vol 1, Chapter 59 | English | Asura Scans | 10 | Jun 18, 2023 |
| Vol 1, Chapter 58 | English | Asura Scans | 10 | Jun 18, 2023 |
| Vol 1, Chapter 57 | English | Asura Scans | 9 | Jun 18, 2023 |
| Vol 1, Chapter 56 | English | Asura Scans | 9 | Jun 18, 2023 |
| Vol 1, Chapter 55 | English | Asura Scans | 12 | Jun 18, 2023 |
| Vol 1, Chapter 54 | English | Asura Scans | 12 | Jun 18, 2023 |
| Vol 1, Chapter 53 | English | Asura Scans | 11 | Jun 18, 2023 |
| Vol 1, Chapter 52 | English | Asura Scans | 12 | Jun 18, 2023 |
| Vol 1, Chapter 51 | English | Asura Scans | 11 | Jun 18, 2023 |
| Vol 1, Chapter 50 | English | Asura Scans | 11 | Jun 18, 2023 |
| Vol 1, Chapter 49 | English | Asura Scans | 9 | Jun 18, 2023 |
| Vol 1, Chapter 48 | English | Asura Scans | 12 | Jun 18, 2023 |
| Vol 1, Chapter 47 | English | Asura Scans | 9 | Jun 18, 2023 |
| Vol 1, Chapter 46 | English | Asura Scans | 9 | Jun 18, 2023 |
| Vol 1, Chapter 45 | English | Asura Scans | 10 | Jun 18, 2023 |
| Vol 1, Chapter 44 | English | Asura Scans | 9 | Jun 18, 2023 |
| Vol 1, Chapter 43 | English | Asura Scans | 6 | Jun 18, 2023 |
| Vol 1, Chapter 42 | English | Asura Scans | 8 | Jun 18, 2023 |
| Vol 1, Chapter 41 | English | Asura Scans | 10 | Jun 18, 2023 |
| Vol 1, Chapter 40 | English | Asura Scans | 10 | Jun 18, 2023 |
| Vol 1, Chapter 39 | English | Asura Scans | 10 | Jun 18, 2023 |
| Vol 1, Chapter 38 | English | Asura Scans | 11 | Jun 18, 2023 |
| Vol 1, Chapter 37 | English | Asura Scans | 11 | Jun 18, 2023 |
| Vol 1, Chapter 36 | English | Asura Scans | 10 | Jun 18, 2023 |
| Vol 1, Chapter 35 | English | Asura Scans | 10 | Jun 18, 2023 |
| Vol 1, Chapter 34 | English | Asura Scans | 12 | Jun 18, 2023 |
| Vol 1, Chapter 33 | English | Asura Scans | 9 | Jun 18, 2023 |
| Vol 1, Chapter 32 | English | Asura Scans | 11 | Jun 18, 2023 |
| Vol 1, Chapter 31 | English | Asura Scans | 10 | Jun 18, 2023 |
| Vol 1, Chapter 30 | English | Asura Scans | 8 | Jun 18, 2023 |
| Vol 1, Chapter 29 | English | Asura Scans | 9 | Jun 18, 2023 |
| Vol 1, Chapter 28 | English | Asura Scans | 9 | Jun 18, 2023 |
| Vol 1, Chapter 27 | English | Asura Scans | 8 | Jun 18, 2023 |
| Vol 1, Chapter 26 | English | Asura Scans | 9 | Jun 18, 2023 |
| Vol 1, Chapter 25 | English | Asura Scans | 8 | Jun 18, 2023 |
| Vol 1, Chapter 24 | English | Asura Scans | 9 | Jun 18, 2023 |
| Vol 1, Chapter 23 | English | Asura Scans | 7 | Jun 18, 2023 |
| Vol 1, Chapter 22 | English | Asura Scans | 7 | Jun 18, 2023 |
| Vol 1, Chapter 21 | English | Asura Scans | 10 | Jun 18, 2023 |
| Vol 1, Chapter 20 | English | Asura Scans | 9 | Jun 18, 2023 |
| Vol 1, Chapter 19 | English | Asura Scans | 7 | Jun 18, 2023 |
| Vol 1, Chapter 18 | English | Asura Scans | 7 | Jun 18, 2023 |
| Vol 1, Chapter 17 | English | Asura Scans | 7 | Jun 18, 2023 |
| Vol 1, Chapter 16 | English | Asura Scans | 8 | Jun 18, 2023 |
| Vol 1, Chapter 15 | English | Asura Scans | 6 | Jun 18, 2023 |
| Vol 1, Chapter 14 | English | Asura Scans | 6 | Jun 18, 2023 |
| Vol 1, Chapter 13 | English | Asura Scans | 6 | Jun 18, 2023 |
| Vol 1, Chapter 12 | English | Asura Scans | 9 | Jun 18, 2023 |
| Vol 1, Chapter 11 | English | Asura Scans | 9 | Jun 18, 2023 |
| Vol 1, Chapter 10 | English | Asura Scans | 10 | Jun 18, 2023 |
| Vol 1, Chapter 9 | English | Asura Scans | 7 | Jun 18, 2023 |
| Vol 1, Chapter 8 | English | Asura Scans | 8 | Jun 18, 2023 |
| Vol 1, Chapter 7 | English | Asura Scans | 8 | Jun 18, 2023 |
| Vol 1, Chapter 6 | English | Asura Scans | 8 | Jun 18, 2023 |
| Vol 1, Chapter 5 | English | Asura Scans | 9 | Jun 18, 2023 |
| Vol 1, Chapter 4 | English | Asura Scans | 9 | Jun 18, 2023 |
| Vol 1, Chapter 3 | English | Asura Scans | 9 | Jun 18, 2023 |
| Vol 1, Chapter 2 | English | Asura Scans | 11 | Jun 18, 2023 |
| Vol 1, Chapter 1 | English | Asura Scans | 11 | Jun 18, 2023 |