I'm a Martial Art Villainess, but I'm the Strongest!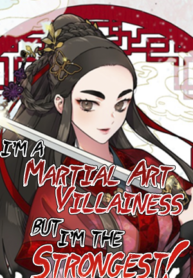 Alternative titles:
Akulah Antagonis Terkuat di Martial Art!, Master Villainess the Invincible!, Muhyeobji Agnyeoinde Naega Jeil Sse!, 무협지 악녀인데 내가 제일 쎄!
Description:
Our main character was an unsuccessful romance fantasy novelist when she gets into a hit-and-run then wakes up as the villainess in a best-selling martial arts novel. She uses the information from the novel that she had analyzed in her original life, in order to avoid her death-ending and finding the truth behind what had really happened to her.
| | | | | |
| --- | --- | --- | --- | --- |
| Chapter | Language | Group | Views | Added |
| Chapter 86 | English | LeviatanScans | 12 | Dec 05, 2022 |
| Chapter 85 | English | LeviatanScans | 12 | Nov 26, 2022 |
| Chapter 84 | English | LeviatanScans | 8 | Nov 20, 2022 |
| Chapter 83 | English | LeviatanScans | 58 | Nov 12, 2022 |
| Chapter 82 | English | LeviatanScans | 12 | Nov 06, 2022 |
| Chapter 81 | English | LeviatanScans | 11 | Oct 11, 2022 |
| Chapter 80 | English | LeviatanScans | 11 | Oct 11, 2022 |
| Chapter 79 | English | LeviatanScans | 7 | Oct 11, 2022 |
| Chapter 78 | English | LeviatanScans | 8 | Oct 11, 2022 |
| Chapter 77 | English | LeviatanScans | 8 | Oct 11, 2022 |
| Chapter 76 | English | LeviatanScans | 8 | Oct 11, 2022 |
| Chapter 75 | English | LeviatanScans | 8 | Oct 11, 2022 |
| Chapter 74 | English | LeviatanScans | 8 | Oct 11, 2022 |
| Chapter 73 | English | LeviatanScans | 19 | Oct 11, 2022 |
| Chapter 72 | English | LeviatanScans | 9 | Oct 11, 2022 |
| Chapter 71 | English | LeviatanScans | 8 | Oct 11, 2022 |
| Chapter 70 | English | LeviatanScans | 8 | Oct 11, 2022 |
| Chapter 69 | English | LeviatanScans | 8 | Oct 11, 2022 |
| Chapter 68 | English | LeviatanScans | 10 | Oct 11, 2022 |
| Chapter 67 | English | LeviatanScans | 9 | Oct 11, 2022 |
| Chapter 66 | English | LeviatanScans | 9 | Oct 11, 2022 |
| Chapter 65 | English | LeviatanScans | 9 | Apr 30, 2022 |
| Chapter 64 | English | LeviatanScans | 8 | Apr 24, 2022 |
| Chapter 63 | English | LeviatanScans | 9 | Apr 17, 2022 |
| Chapter 62 | English | LeviatanScans | 7 | Apr 17, 2022 |
| Chapter 61 | English | LeviatanScans | 7 | Mar 27, 2022 |
| Chapter 60 | English | LeviatanScans | 10 | Mar 20, 2022 |
| Chapter 59 | English | LeviatanScans | 11 | Mar 12, 2022 |
| Chapter 58 | English | LeviatanScans | 8 | Mar 06, 2022 |
| Chapter 57 | English | LeviatanScans | 8 | Feb 27, 2022 |
| Chapter 56 | English | LeviatanScans | 16 | Feb 13, 2022 |
| Chapter 55 | English | LeviatanScans | 23 | Feb 06, 2022 |
| Chapter 54 | English | LeviatanScans | 28 | Jan 31, 2022 |
| Chapter 53 | English | LeviatanScans | 23 | Jan 23, 2022 |
| Chapter 52 | English | LeviatanScans | 31 | Jan 17, 2022 |
| Chapter 51 | English | LeviatanScans | 27 | Jan 17, 2022 |
| Chapter 50 | English | LeviatanScans | 64 | Aug 01, 2021 |
| Chapter 49 | English | LeviatanScans | 48 | Jul 26, 2021 |
| Chapter 48 | English | LeviatanScans | 45 | Jul 18, 2021 |
| Chapter 47 | English | LeviatanScans | 56 | Jul 12, 2021 |
| Chapter 46 | English | LeviatanScans | 58 | Jul 03, 2021 |
| Chapter 45 | English | LeviatanScans | 60 | Jun 27, 2021 |
| Chapter 44 | English | LeviatanScans | 55 | Jun 20, 2021 |
| Chapter 43 | English | LeviatanScans | 55 | Jun 14, 2021 |
| Chapter 42 | English | LeviatanScans | 55 | May 30, 2021 |
| Chapter 41 | English | LeviatanScans | 55 | May 24, 2021 |
| Chapter 40 | English | LeviatanScans | 43 | May 20, 2021 |
| Chapter 39 | English | LeviatanScans | 41 | May 20, 2021 |
| Chapter 38 | English | LeviatanScans | 39 | May 20, 2021 |
| Chapter 37 | English | LeviatanScans | 38 | May 20, 2021 |
| Chapter 36 | English | LeviatanScans | 41 | May 20, 2021 |
| Chapter 35 | English | LeviatanScans | 40 | May 20, 2021 |
| Chapter 34 | English | LeviatanScans | 39 | May 20, 2021 |
| Chapter 33 | English | LeviatanScans | 37 | May 20, 2021 |
| Chapter 32 | English | LeviatanScans | 37 | May 20, 2021 |
| Chapter 31 | English | LeviatanScans | 39 | May 20, 2021 |
| Chapter 30 | English | LeviatanScans | 38 | May 20, 2021 |
| Chapter 29 | English | LeviatanScans | 42 | May 20, 2021 |
| Chapter 28 | English | LeviatanScans | 35 | May 20, 2021 |
| Chapter 27 | English | LeviatanScans | 34 | May 20, 2021 |
| Chapter 26 | English | LeviatanScans | 42 | May 20, 2021 |
| Chapter 25 | English | LeviatanScans | 39 | May 20, 2021 |
| Chapter 24 | English | LeviatanScans | 42 | May 20, 2021 |
| Chapter 23 | English | LeviatanScans | 38 | May 20, 2021 |
| Chapter 22 | English | LeviatanScans | 38 | May 20, 2021 |
| Chapter 21 | English | LeviatanScans | 36 | May 20, 2021 |
| Chapter 20 | English | LeviatanScans | 42 | May 20, 2021 |
| Chapter 19 | English | LeviatanScans | 36 | May 20, 2021 |
| Chapter 18 | English | LeviatanScans | 41 | May 20, 2021 |
| Chapter 17 | English | LeviatanScans | 37 | May 20, 2021 |
| Chapter 16 | English | LeviatanScans | 40 | May 20, 2021 |
| Chapter 15 | English | LeviatanScans | 36 | May 20, 2021 |
| Chapter 14 | English | LeviatanScans | 38 | May 20, 2021 |
| Chapter 13 | English | LeviatanScans | 41 | May 20, 2021 |
| Chapter 12 | English | LeviatanScans | 36 | May 20, 2021 |
| Chapter 11 | English | LeviatanScans | 40 | May 20, 2021 |
| Chapter 10 | English | LeviatanScans | 36 | May 20, 2021 |
| Chapter 9 | English | LeviatanScans | 39 | May 20, 2021 |
| Chapter 8 | English | LeviatanScans | 35 | May 20, 2021 |
| Chapter 7 | English | LeviatanScans | 35 | May 20, 2021 |
| Chapter 6 | English | LeviatanScans | 38 | May 20, 2021 |
| Chapter 5 | English | LeviatanScans | 40 | May 20, 2021 |
| Chapter 4 | English | LeviatanScans | 38 | May 20, 2021 |
| Chapter 3 | English | LeviatanScans | 37 | May 20, 2021 |
| Chapter 2 | English | LeviatanScans | 41 | May 20, 2021 |
| Chapter 1 | English | LeviatanScans | 58 | May 20, 2021 |