Seoul Station Druid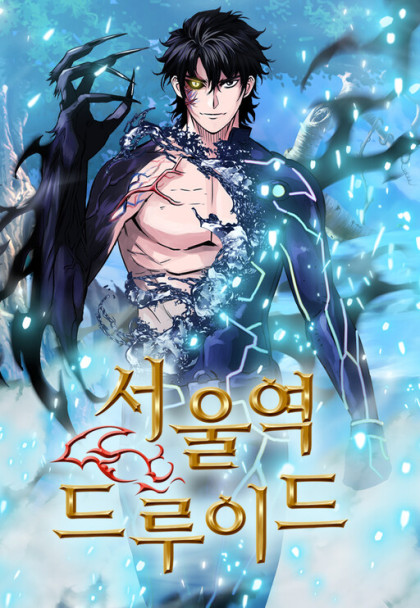 Alternative titles:
Seoul Station Druid, 서울역 드루이드
Description:
Park Sooho returned to Earth after disappearing to another world for a thousand years. During that time, Earth had changed into a world of the survival of the fittest thanks to the appearance of monsters. Druid, the king of the animals, who had managed to survive for a thousand years is now off to conquer the world.

Based on the homonymous novel by Jin Seol U.
| | | | | |
| --- | --- | --- | --- | --- |
| Chapter | Language | Group | Views | Added |
| Chapter 88 | English | Reaper Scans | 62 | Jan 27, 2023 |
| Chapter 87 | English | Reaper Scans | 200 | Jan 20, 2023 |
| Chapter 86 | English | Reaper Scans | 202 | Jan 13, 2023 |
| Chapter 85 | English | Reaper Scans | 13 | Jan 09, 2023 |
| Chapter 84 | English | Reaper Scans | 205 | Jan 09, 2023 |
| Chapter 83 | English | Reaper Scans | 212 | Jan 03, 2023 |
| Chapter 82 | English | Reaper Scans | 216 | Dec 20, 2022 |
| Chapter 81 | English | Reaper Scans | 227 | Dec 12, 2022 |
| Chapter 80 | English | Reaper Scans | 227 | Dec 06, 2022 |
| Chapter 79 | English | Reaper Scans | 224 | Nov 30, 2022 |
| Chapter 78 | English | Reaper Scans | 39 | Nov 24, 2022 |
| Chapter 77 | English | Reaper Scans | 36 | Nov 16, 2022 |
| Chapter 76 | English | Reaper Scans | 32 | Nov 14, 2022 |
| Chapter 75 | English | Reaper Scans | 22 | Nov 13, 2022 |
| Chapter 74 | English | Reaper Scans | 27 | Oct 17, 2022 |
| Chapter 73 | English | Reaper Scans | 25 | Oct 12, 2022 |
| Chapter 72 | English | Reaper Scans | 261 | Oct 12, 2022 |
| Chapter 71 | English | Reaper Scans | 271 | Sep 27, 2022 |
| Chapter 70 | English | Reaper Scans | 267 | Sep 16, 2022 |
| Chapter 69 | English | Reaper Scans | 265 | Sep 14, 2022 |
| Chapter 68 | English | Reaper Scans | 272 | Sep 12, 2022 |
| Chapter 67 | English | Reaper Scans | 280 | Sep 02, 2022 |
| Chapter 66 | English | Reaper Scans | 274 | Aug 30, 2022 |
| Chapter 65 | English | Reaper Scans | 275 | Aug 11, 2022 |
| Chapter 64 | English | Reaper Scans | 276 | Aug 02, 2022 |
| Chapter 63 | English | Reaper Scans | 286 | Jul 20, 2022 |
| Chapter 62 | English | Reaper Scans | 284 | Jul 16, 2022 |
| Chapter 61 | English | Reaper Scans | 298 | Jul 10, 2022 |
| Chapter 60 | English | Reaper Scans | 294 | Jul 10, 2022 |
| Chapter 59 | English | Reaper Scans | 300 | Jul 07, 2022 |
| Chapter 58 | English | Reaper Scans | 307 | Jun 23, 2022 |
| Chapter 57 | English | Reaper Scans | 299 | Jun 20, 2022 |
| Chapter 56 | English | Reaper Scans | 300 | Jun 06, 2022 |
| Chapter 55 | English | Reaper Scans | 304 | May 25, 2022 |
| Chapter 54 | English | Reaper Scans | 305 | May 14, 2022 |
| Chapter 53 | English | Reaper Scans | 292 | May 12, 2022 |
| Chapter 52 | English | Reaper Scans | 303 | May 08, 2022 |
| Chapter 51 | English | Reaper Scans | 317 | Apr 24, 2022 |
| Chapter 50 | English | Reaper Scans | 305 | Apr 18, 2022 |
| Chapter 49 | English | Reaper Scans | 300 | Apr 12, 2022 |
| Chapter 48 | English | Reaper Scans | 62 | Apr 05, 2022 |
| Chapter 47 | English | Reaper Scans | 314 | Apr 03, 2022 |
| Chapter 46 | English | Reaper Scans | 315 | Mar 28, 2022 |
| Chapter 45 | English | Reaper Scans | 320 | Mar 20, 2022 |
| Chapter 44 | English | Reaper Scans | 311 | Mar 19, 2022 |
| Chapter 43 | English | Reaper Scans | 340 | Mar 06, 2022 |
| Chapter 42 | English | Reaper Scans | 338 | Mar 01, 2022 |
| Chapter 41 | English | Reaper Scans | 319 | Mar 01, 2022 |
| Chapter 40 | English | Reaper Scans | 331 | Feb 23, 2022 |
| Chapter 39 | English | Reaper Scans | 323 | Feb 23, 2022 |
| Vol 1, Chapter 38 | English | Reaper Scans | 329 | Feb 22, 2022 |
| Vol 1, Chapter 37 | English | Reaper Scans | 329 | Jan 26, 2022 |
| Vol 1, Chapter 36 | English | Reaper Scans | 320 | Jan 26, 2022 |
| Vol 1, Chapter 35 | English | Reaper Scans | 316 | Jan 26, 2022 |
| Vol 1, Chapter 34 | English | Reaper Scans | 338 | Jan 07, 2022 |
| Vol 1, Chapter 33 | English | Reaper Scans | 329 | Jan 07, 2022 |
| Vol 1, Chapter 32 | English | Reaper Scans | 332 | Dec 20, 2021 |
| Vol 1, Chapter 31 | English | Reaper Scans | 317 | Dec 20, 2021 |
| Vol 1, Chapter 30 | English | Reaper Scans | 314 | Dec 20, 2021 |
| Vol 1, Chapter 29 | English | Reaper Scans | 310 | Dec 20, 2021 |
| Vol 1, Chapter 28 | English | Reaper Scans | 314 | Dec 20, 2021 |
| Vol 1, Chapter 27 | English | Reaper Scans | 317 | Dec 20, 2021 |
| Vol 1, Chapter 26 | English | Reaper Scans | 317 | Dec 20, 2021 |
| Vol 1, Chapter 25 | English | Reaper Scans | 313 | Dec 20, 2021 |
| Vol 1, Chapter 24 | English | Reaper Scans | 312 | Dec 20, 2021 |
| Vol 1, Chapter 23 | English | Reaper Scans | 312 | Dec 20, 2021 |
| Vol 1, Chapter 22 | English | Reaper Scans | 315 | Dec 20, 2021 |
| Vol 1, Chapter 21 | English | Reaper Scans | 317 | Dec 20, 2021 |
| Vol 1, Chapter 20 | English | Reaper Scans | 301 | Dec 20, 2021 |
| Vol 1, Chapter 19 | English | Reaper Scans | 309 | Dec 20, 2021 |
| Vol 1, Chapter 18 | English | Reaper Scans | 318 | Dec 20, 2021 |
| Vol 1, Chapter 17 | English | Reaper Scans | 317 | Dec 20, 2021 |
| Vol 1, Chapter 16 | English | Reaper Scans | 321 | Dec 20, 2021 |
| Vol 1, Chapter 15 | English | Reaper Scans | 309 | Dec 20, 2021 |
| Vol 1, Chapter 14 | English | Reaper Scans | 305 | Dec 20, 2021 |
| Vol 1, Chapter 13 | English | Reaper Scans | 302 | Dec 20, 2021 |
| Vol 1, Chapter 12 | English | Reaper Scans | 301 | Dec 20, 2021 |
| Vol 1, Chapter 11 | English | Reaper Scans | 304 | Dec 20, 2021 |
| Vol 1, Chapter 10 | English | Reaper Scans | 313 | Dec 20, 2021 |
| Vol 1, Chapter 9 | English | Reaper Scans | 315 | Dec 20, 2021 |
| Vol 1, Chapter 8 | English | Reaper Scans | 315 | Dec 20, 2021 |
| Vol 1, Chapter 7 | English | Reaper Scans | 324 | Dec 20, 2021 |
| Vol 1, Chapter 6 | English | Reaper Scans | 306 | Dec 20, 2021 |
| Vol 1, Chapter 5 | English | Reaper Scans | 316 | Dec 20, 2021 |
| Vol 1, Chapter 4 | English | Reaper Scans | 313 | Dec 20, 2021 |
| Vol 1, Chapter 3 | English | Reaper Scans | 311 | Dec 20, 2021 |
| Vol 1, Chapter 2 | English | Reaper Scans | 320 | Dec 20, 2021 |
| Vol 1, Chapter 1 | English | Reaper Scans | 328 | Dec 20, 2021 |