How to Live as a Villain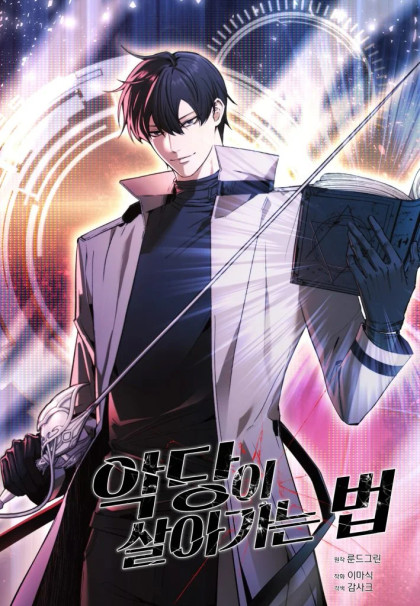 Alternative titles:
How a Villain Lives, How the Villain Lives, 악당이 살아가는 법
Description:
"You have been chosen as a player in the great game to select the next god's successor, the Mission! Congratulations!"
Seonghoon has suddenly fallen into another world to participate in a game to become a god. This other world that is akin to that of a game contains players who cooperate and also kill each other in cold blood…!!
Seonghoon, a person without an ounce of talent, uses wicked and crude tricks to become an all-powerful player!
| | | | | |
| --- | --- | --- | --- | --- |
| Chapter | Language | Group | Views | Added |
| Chapter 112 | English | Asura Scans | 4 | Oct 28, 2023 |
| Chapter 111 | English | Asura Scans | 7 | Oct 20, 2023 |
| Chapter 110 | English | Asura Scans | 4 | Oct 16, 2023 |
| Chapter 109 | English | Asura Scans | 3 | Oct 15, 2023 |
| Chapter 108 | English | Asura Scans | 6 | Oct 12, 2023 |
| Chapter 107 | English | Asura Scans | 6 | Sep 21, 2023 |
| Chapter 106 | English | Asura Scans | 5 | Sep 18, 2023 |
| Chapter 105 | English | Asura Scans | 3 | Sep 15, 2023 |
| Chapter 104 | English | Asura Scans | 11 | Sep 05, 2023 |
| Chapter 103 | English | Asura Scans | 5 | Aug 31, 2023 |
| Chapter 102 | English | Asura Scans | 4 | Aug 31, 2023 |
| Chapter 101 | English | Asura Scans | 8 | Aug 12, 2023 |
| Chapter 100 | English | Asura Scans | 2 | Aug 12, 2023 |
| Chapter 99 | English | Asura Scans | 4 | Aug 12, 2023 |
| Chapter 98 | English | Asura Scans | 8 | Jul 28, 2023 |
| Chapter 97 | English | Asura Scans | 2 | Jul 28, 2023 |
| Chapter 96 | English | Asura Scans | 2 | Jul 28, 2023 |
| Chapter 95 | English | Asura Scans | 2 | Jul 28, 2023 |
| Chapter 94 | English | Asura Scans | 3 | Jul 28, 2023 |
| Chapter 93 | English | Asura Scans | 5 | Jun 24, 2023 |
| Chapter 92 | English | Asura Scans | 6 | Jun 19, 2023 |
| Chapter 91 | English | Asura Scans | 4 | Jun 19, 2023 |
| Chapter 90 | English | Asura Scans | 17 | Jun 01, 2023 |
| Chapter 89 | English | Asura Scans | 7 | Jun 01, 2023 |
| Chapter 88 | English | Asura Scans | 15 | May 17, 2023 |
| Chapter 87 | English | Asura Scans | 14 | May 09, 2023 |
| Chapter 86 | English | Asura Scans | 8 | May 06, 2023 |
| Chapter 85 | English | Asura Scans | 8 | May 06, 2023 |
| Chapter 84 | English | Asura Scans | 8 | May 06, 2023 |
| Chapter 83 | English | Asura Scans | 11 | Apr 08, 2023 |
| Chapter 82 | English | Asura Scans | 10 | Apr 02, 2023 |
| Chapter 81 | English | Asura Scans | 10 | Mar 24, 2023 |
| Chapter 80 | English | Asura Scans | 13 | Mar 16, 2023 |
| Chapter 79 | English | Asura Scans | 8 | Mar 06, 2023 |
| Chapter 78 | English | Asura Scans | 10 | Feb 27, 2023 |
| Chapter 77 | English | Asura Scans | 9 | Feb 21, 2023 |
| Chapter 76 | English | Asura Scans | 10 | Feb 19, 2023 |
| Chapter 75 | English | Asura Scans | 9 | Feb 19, 2023 |
| Chapter 74 | English | Asura Scans | 10 | Feb 19, 2023 |
| Chapter 73 | English | Asura Scans | 10 | Feb 19, 2023 |
| Chapter 72 | English | Asura Scans | 11 | Feb 19, 2023 |
| Chapter 71 | English | Asura Scans | 7 | Feb 19, 2023 |
| Chapter 70 | English | Asura Scans | 9 | Feb 19, 2023 |
| Chapter 69 | English | Asura Scans | 7 | Feb 19, 2023 |
| Chapter 68 | English | Asura Scans | 7 | Feb 19, 2023 |
| Chapter 67 | English | Asura Scans | 8 | Feb 19, 2023 |
| Chapter 66 | English | Asura Scans | 7 | Feb 19, 2023 |
| Chapter 65 | English | Reaper Scans | 20 | Oct 28, 2022 |
| Chapter 64 | English | Reaper Scans | 11 | Oct 28, 2022 |
| Chapter 63 | English | Reaper Scans | 18 | Oct 24, 2022 |
| Chapter 62 | English | Reaper Scans | 15 | Oct 11, 2022 |
| Chapter 61 | English | Reaper Scans | 21 | Oct 11, 2022 |
| Chapter 60 | English | Reaper Scans | 20 | Sep 19, 2022 |
| Chapter 59 | English | Reaper Scans | 16 | Sep 19, 2022 |
| Chapter 58 | English | Reaper Scans | 16 | Sep 15, 2022 |
| Chapter 57 | English | Reaper Scans | 18 | Sep 04, 2022 |
| Chapter 56 | English | Reaper Scans | 20 | Aug 30, 2022 |
| Chapter 55 | English | Reaper Scans | 15 | Aug 30, 2022 |
| Chapter 54 | English | Reaper Scans | 16 | Aug 17, 2022 |
| Chapter 53 | English | Reaper Scans | 18 | Aug 16, 2022 |
| Chapter 52 | English | Reaper Scans | 19 | Jul 26, 2022 |
| Chapter 51 | English | Reaper Scans | 17 | Jul 25, 2022 |
| Chapter 50 | English | Reaper Scans | 17 | Jul 17, 2022 |
| Chapter 49 | English | Reaper Scans | 15 | Jul 16, 2022 |
| Chapter 48 | English | Reaper Scans | 15 | Jul 14, 2022 |
| Chapter 47 | English | Reaper Scans | 19 | Jun 23, 2022 |
| Chapter 46 | English | Reaper Scans | 16 | Jun 16, 2022 |
| Chapter 45 | English | Reaper Scans | 27 | Jun 03, 2022 |
| Chapter 44 | English | Reaper Scans | 25 | May 25, 2022 |
| Chapter 43 | English | Reaper Scans | 19 | May 15, 2022 |
| Chapter 42 | English | Reaper Scans | 22 | May 11, 2022 |
| Chapter 41 | English | Reaper Scans | 23 | May 06, 2022 |
| Chapter 40 | English | Reaper Scans | 20 | Apr 21, 2022 |
| Chapter 39 | English | Reaper Scans | 25 | Apr 12, 2022 |
| Chapter 38 | English | Reaper Scans | 30 | Apr 05, 2022 |
| Chapter 37 | English | Reaper Scans | 30 | Apr 04, 2022 |
| Chapter 36 | English | Reaper Scans | 22 | Apr 04, 2022 |
| Chapter 35 | English | Reaper Scans | 28 | Mar 30, 2022 |
| Chapter 34 | English | Reaper Scans | 35 | Mar 19, 2022 |
| Chapter 33 | English | Reaper Scans | 29 | Mar 10, 2022 |
| Chapter 32 | English | Reaper Scans | 32 | Mar 05, 2022 |
| Chapter 31 | English | Reaper Scans | 30 | Feb 27, 2022 |
| Chapter 30 | English | Reaper Scans | 40 | Feb 23, 2022 |
| Vol 1, Chapter 29 | English | Reaper Scans | 34 | Feb 22, 2022 |
| Vol 1, Chapter 28 | English | Reaper Scans | 24 | Feb 22, 2022 |
| Vol 1, Chapter 27 | English | Reaper Scans | 29 | Jan 19, 2022 |
| Vol 1, Chapter 26 | English | Reaper Scans | 29 | Jan 19, 2022 |
| Vol 1, Chapter 25 | English | Reaper Scans | 25 | Jan 19, 2022 |
| Vol 1, Chapter 24 | English | Reaper Scans | 34 | Jan 08, 2022 |
| Vol 1, Chapter 23 | English | Reaper Scans | 33 | Dec 31, 2021 |
| Vol 1, Chapter 22 | English | Reaper Scans | 29 | Dec 31, 2021 |
| Vol 1, Chapter 21 | English | Reaper Scans | 36 | Dec 18, 2021 |
| Vol 1, Chapter 20 | English | Reaper Scans | 31 | Dec 18, 2021 |
| Vol 1, Chapter 19 | English | Reaper Scans | 50 | Nov 23, 2021 |
| Vol 1, Chapter 18 | English | Reaper Scans | 37 | Nov 12, 2021 |
| Vol 1, Chapter 17 | English | Reaper Scans | 38 | Nov 12, 2021 |
| Vol 1, Chapter 16 | English | Reaper Scans | 41 | Nov 12, 2021 |
| Vol 1, Chapter 15 | English | Reaper Scans | 47 | Nov 12, 2021 |
| Vol 1, Chapter 14 | English | Reaper Scans | 45 | Nov 12, 2021 |
| Vol 1, Chapter 13 | English | Reaper Scans | 44 | Nov 12, 2021 |
| Vol 1, Chapter 12 | English | Reaper Scans | 37 | Nov 12, 2021 |
| Vol 1, Chapter 11 | English | Reaper Scans | 36 | Nov 12, 2021 |
| Vol 1, Chapter 10 | English | Reaper Scans | 42 | Nov 12, 2021 |
| Vol 1, Chapter 9 | English | Reaper Scans | 42 | Nov 12, 2021 |
| Vol 1, Chapter 8 | English | Reaper Scans | 50 | Nov 12, 2021 |
| Vol 1, Chapter 7 | English | Reaper Scans | 52 | Nov 12, 2021 |
| Vol 1, Chapter 6 | English | Reaper Scans | 49 | Nov 12, 2021 |
| Vol 1, Chapter 5 | English | Reaper Scans | 46 | Nov 12, 2021 |
| Vol 1, Chapter 4 | English | Reaper Scans | 57 | Nov 12, 2021 |
| Vol 1, Chapter 3 | English | Reaper Scans | 53 | Nov 12, 2021 |
| Vol 1, Chapter 2 | English | Reaper Scans | 53 | Nov 12, 2021 |
| Vol 1, Chapter 1 | English | Reaper Scans | 73 | Nov 12, 2021 |