Player From Today Onwards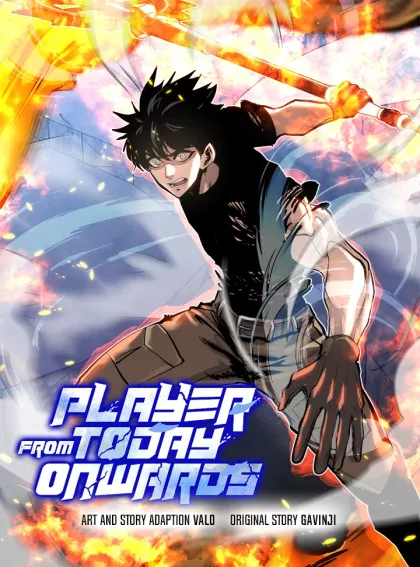 Alternative titles:
Player Starting From Today, Starting Today, I'm a Player, A partir de hoy, soy un jugador, 今天开始当玩家, 오늘부터 플레이어
Description:
Hunters who are born from the support of sponsors. And the twelve heroes who shine the brightest among all. They called themselves gods and erected Eden.

Eden. 'Ruled the world.' That was the era I, Lee Joon Kyung, lived through. A normal person living in a world dominated by hunters. I lived as a livestock just like other normal people.

The only thing different was a book that I owned. It was a biography of the Demon Lord, a forgotten but true hero.

One of the twelve sovereigns, Athena, visited me. And tried to kill me.

'Go to the past? An era more than 100 years ago? An era when the hunters emerged?

I fell into the past. Doomsday Sky, who sponsored the Demon Lord, sponsored me. I lived a life similar to that of the Demon Lord, but...

'It won't be the same as the Demon Lord.' I dream of a brighter future, even more so than what the Demon Lord dreamed.

The strength I have now, is the same strength that the Demon Lord had. A hunter surpassing another hunter. To will become a player.
| | | | | |
| --- | --- | --- | --- | --- |
| Chapter | Language | Group | Views | Added |
| Chapter 71 | English | Reaper Scans | 3 | 13 days ago |
| Chapter 70 | English | Reaper Scans | 4 | 20 days ago |
| Chapter 69 | English | Reaper Scans | 3 | 21 days ago |
| Chapter 68 | English | Reaper Scans | 2 | 21 days ago |
| Chapter 67 | English | Reaper Scans | 3 | 22 days ago |
| Chapter 66 | English | Reaper Scans | 2 | 22 days ago |
| Chapter 65 | English | Reaper Scans | 5 | Dec 17, 2022 |
| Chapter 64 | English | Reaper Scans | 6 | Nov 20, 2022 |
| Chapter 63 | English | Reaper Scans | 3 | Nov 20, 2022 |
| Chapter 62 | English | Reaper Scans | 3 | Nov 20, 2022 |
| Chapter 61 | English | Reaper Scans | 4 | Nov 02, 2022 |
| Chapter 60 | English | Reaper Scans | 6 | Oct 23, 2022 |
| Chapter 59 | English | Reaper Scans | 9 | Oct 11, 2022 |
| Chapter 58 | English | Reaper Scans | 6 | Oct 11, 2022 |
| Chapter 57 | English | Reaper Scans | 88 | Sep 22, 2022 |
| Chapter 56 | English | Reaper Scans | 88 | Sep 15, 2022 |
| Chapter 55 | English | Reaper Scans | 77 | Sep 04, 2022 |
| Chapter 54 | English | Reaper Scans | 75 | Aug 24, 2022 |
| Chapter 53 | English | Reaper Scans | 72 | Aug 24, 2022 |
| Chapter 52 | English | Reaper Scans | 76 | Aug 10, 2022 |
| Chapter 51 | English | Reaper Scans | 84 | Aug 03, 2022 |
| Chapter 50 | English | Reaper Scans | 85 | Jul 29, 2022 |
| Chapter 49 | English | Reaper Scans | 87 | Jul 16, 2022 |
| Chapter 48 | English | Reaper Scans | 80 | Jul 16, 2022 |
| Chapter 47 | English | Reaper Scans | 95 | Jun 24, 2022 |
| Chapter 46 | English | Reaper Scans | 88 | Jun 17, 2022 |
| Chapter 45 | English | Reaper Scans | 83 | Jun 11, 2022 |
| Chapter 44 | English | Reaper Scans | 111 | Mar 04, 2022 |
| Chapter 43 | English | Reaper Scans | 91 | Feb 25, 2022 |
| Chapter 42 | English | Reaper Scans | 28 | Feb 18, 2022 |
| Chapter 41 | English | Reaper Scans | 32 | Feb 11, 2022 |
| Chapter 40 | English | Reaper Scans | 31 | Feb 10, 2022 |
| Chapter 39 | English | Reaper Scans | 26 | Feb 10, 2022 |
| Chapter 38 | English | Reaper Scans | 33 | Jan 21, 2022 |
| Chapter 37 | English | Reaper Scans | 22 | Jan 21, 2022 |
| Chapter 36 | English | Reaper Scans | 30 | Jan 07, 2022 |
| Chapter 35 | English | Reaper Scans | 24 | Dec 31, 2021 |
| Chapter 34 | English | Reaper Scans | 32 | Dec 30, 2021 |
| Chapter 33 | English | Reaper Scans | 29 | Dec 29, 2021 |
| Chapter 32 | English | Reaper Scans | 23 | Dec 29, 2021 |
| Chapter 31 | English | Reaper Scans | 35 | Dec 29, 2021 |
| Chapter 30 | English | Reaper Scans | 29 | Dec 29, 2021 |
| Chapter 29 | English | Reaper Scans | 24 | Dec 29, 2021 |
| Chapter 28 | English | Reaper Scans | 22 | Dec 29, 2021 |
| Chapter 27 | English | Reaper Scans | 22 | Dec 29, 2021 |
| Chapter 26 | English | Reaper Scans | 26 | Dec 29, 2021 |
| Chapter 25 | English | Reaper Scans | 23 | Dec 29, 2021 |
| Chapter 24 | English | Reaper Scans | 23 | Dec 29, 2021 |
| Chapter 23 | English | Reaper Scans | 38 | Dec 29, 2021 |
| Chapter 22 | English | Reaper Scans | 22 | Dec 29, 2021 |
| Chapter 21 | English | Reaper Scans | 20 | Dec 29, 2021 |
| Chapter 20 | English | Reaper Scans | 17 | Dec 29, 2021 |
| Chapter 19 | English | Reaper Scans | 16 | Dec 29, 2021 |
| Chapter 18 | English | Reaper Scans | 19 | Dec 29, 2021 |
| Chapter 17 | English | Reaper Scans | 19 | Dec 29, 2021 |
| Chapter 16 | English | Reaper Scans | 13 | Dec 29, 2021 |
| Chapter 15 | English | Reaper Scans | 120 | Dec 29, 2021 |
| Chapter 14 | English | Reaper Scans | 125 | Dec 29, 2021 |
| Chapter 13 | English | Reaper Scans | 118 | Dec 29, 2021 |
| Chapter 12 | English | Reaper Scans | 124 | Dec 29, 2021 |
| Chapter 11 | English | Reaper Scans | 121 | Dec 29, 2021 |
| Chapter 10 | English | Reaper Scans | 123 | Dec 29, 2021 |
| Chapter 9 | English | Reaper Scans | 117 | Dec 29, 2021 |
| Chapter 8 | English | Reaper Scans | 19 | Dec 29, 2021 |
| Chapter 7 | English | Reaper Scans | 79 | Dec 29, 2021 |
| Chapter 6 | English | Reaper Scans | 72 | Dec 29, 2021 |
| Chapter 5 | English | Reaper Scans | 22 | Dec 29, 2021 |
| Chapter 4 | English | Reaper Scans | 21 | Dec 29, 2021 |
| Chapter 3 | English | Reaper Scans | 20 | Dec 29, 2021 |
| Chapter 2 | English | Reaper Scans | 20 | Dec 29, 2021 |
| Chapter 1 | English | Reaper Scans | 43 | Dec 29, 2021 |