I'll Resign and Have a Fresh Start in This World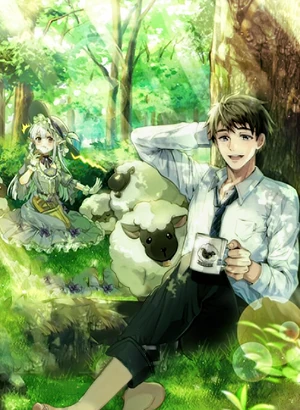 Alternative titles:
Resigning and Healing in Another World, I'm Going to Relax in This World After Submitting My Resignation, 会社辞めて異世界で癒されます, 사표내고 이계에서 힐링합니다
Description:
The main character, Lee Soo, lived an ordinary but happy life.
Five years ago, he suddenly loses his parents, and becomes a devastated man, as he struggles every day.
When he was exhausted from the suffocating daily life, a portal opened in the room.
A place he has never been to, a place he doesn't know what might be.
A healing life to enjoy in a different world starting as a commoner and turning to a feudal lord.
| | | | | |
| --- | --- | --- | --- | --- |
| Chapter | Language | Group | Views | Added |
| Chapter 66 | English | Rizz Comic | 5 | 4 days ago |
| Chapter 65 | English | Rizz Comic | 8 | 8 days ago |
| Chapter 64 | English | Rizz Comic | 9 | 16 days ago |
| Chapter 63 | English | Rizz Comic | 9 | 24 days ago |
| Chapter 62 | English | Rizz Comic | 7 | Nov 02, 2023 |
| Chapter 61 | English | Rizz Comic | 8 | Nov 01, 2023 |
| Chapter 60 | English | Rizz Comic | 12 | Oct 22, 2023 |
| Chapter 59 | English | Realm Scans | 11 | Oct 15, 2023 |
| Chapter 58 | English | Realm Scans | 10 | Oct 01, 2023 |
| Chapter 57 | English | Realm Scans | 7 | Sep 25, 2023 |
| Chapter 56 | English | Realm Scans | 9 | Sep 17, 2023 |
| Chapter 55 | English | Realm Scans | 10 | Sep 10, 2023 |
| Chapter 54 | English | Realm Scans | 8 | Sep 02, 2023 |
| Chapter 53 | English | Realm Scans | 11 | Aug 24, 2023 |
| Chapter 52 | English | Realm Scans | 12 | Aug 17, 2023 |
| Chapter 51 | English | Realm Scans | 8 | Aug 10, 2023 |
| Chapter 50 | English | Realm Scans | 9 | Aug 08, 2023 |
| Chapter 49 | English | Realm Scans | 13 | Jul 31, 2023 |
| Chapter 48 | English | Realm Scans | 13 | Jul 22, 2023 |
| Chapter 47 | English | Realm Scans | 11 | Jul 15, 2023 |
| Chapter 46 | English | Realm Scans | 7 | Jul 10, 2023 |
| Chapter 45 | English | Realm Scans | 12 | Jul 03, 2023 |
| Chapter 44 | English | Realm Scans | 14 | Jun 27, 2023 |
| Chapter 43 | English | Realm Scans | 6 | Jun 27, 2023 |
| Chapter 42 | English | Realm Scans | 17 | Jun 08, 2023 |
| Chapter 41 | English | Realm Scans | 10 | Jun 03, 2023 |
| Chapter 40 | English | Realm Scans | 17 | May 28, 2023 |
| Chapter 39 | English | Realm Scans | 14 | May 23, 2023 |
| Chapter 38 | English | Realm Scans | 10 | May 23, 2023 |
| Chapter 37 | English | Realm Scans | 8 | May 23, 2023 |
| Chapter 36 | English | Realm Scans | 9 | May 23, 2023 |
| Chapter 35 | English | Realm Scans | 11 | May 23, 2023 |
| Chapter 34 | English | Realm Scans | 10 | May 23, 2023 |
| Chapter 33 | English | Realm Scans | 13 | May 23, 2023 |
| Chapter 32 | English | Realm Scans | 14 | May 23, 2023 |
| Chapter 31 | English | Realm Scans | 10 | May 23, 2023 |
| Chapter 30 | English | Realm Scans | 8 | May 23, 2023 |
| Chapter 29 | English | Realm Scans | 11 | May 23, 2023 |
| Chapter 28 | English | Realm Scans | 11 | May 23, 2023 |
| Chapter 27 | English | Realm Scans | 14 | May 23, 2023 |
| Chapter 26 | English | Realm Scans | 10 | May 23, 2023 |
| Chapter 25 | English | Realm Scans | 12 | May 23, 2023 |
| Chapter 24 | English | Realm Scans | 13 | May 23, 2023 |
| Chapter 23 | English | Realm Scans | 12 | May 23, 2023 |
| Chapter 22 | English | Realm Scans | 12 | May 23, 2023 |
| Chapter 21 | English | Realm Scans | 9 | May 23, 2023 |
| Chapter 20 | English | Realm Scans | 11 | May 23, 2023 |
| Chapter 19 | English | Realm Scans | 13 | May 23, 2023 |
| Chapter 18 | English | Realm Scans | 14 | May 23, 2023 |
| Chapter 17 | English | Realm Scans | 12 | May 23, 2023 |
| Chapter 16 | English | Realm Scans | 10 | May 23, 2023 |
| Chapter 15 | English | Realm Scans | 13 | May 23, 2023 |
| Chapter 14 | English | Realm Scans | 15 | May 23, 2023 |
| Chapter 13 | English | Realm Scans | 12 | May 23, 2023 |
| Chapter 12 | English | Realm Scans | 14 | May 23, 2023 |
| Chapter 11 | English | Realm Scans | 12 | May 23, 2023 |
| Chapter 10 | English | Realm Scans | 12 | May 23, 2023 |
| Chapter 9 | English | Realm Scans | 12 | May 23, 2023 |
| Chapter 8 | English | Realm Scans | 12 | May 23, 2023 |
| Chapter 7 | English | Realm Scans | 12 | May 23, 2023 |
| Chapter 6 | English | Realm Scans | 16 | May 23, 2023 |
| Chapter 5 | English | Realm Scans | 17 | May 23, 2023 |
| Chapter 4 | English | Realm Scans | 15 | May 23, 2023 |
| Chapter 3 | English | Realm Scans | 17 | May 23, 2023 |
| Chapter 2 | English | Realm Scans | 29 | May 23, 2023 |
| Chapter 1 | English | Realm Scans | 42 | May 23, 2023 |